AFFIRMING AT CANADIAN MEMORIAL UNITED CHURCH
In Spring 2017 Canadian Memorial began the United Church of Canada's Affirming Ministries process. After a full  year of reflection and education on what it means to be fully inclusive of LGBTQ2SIA people, we voted to become an Affirming ministry on June 10, 2018 with a revised mission statement that explicitly states our belief in the God-given diversity of humanity, our affirmation of people of all sexual orientations and gender identities in the welcome and full participation of our church life, and our commitment to working for justice for marginalized groups. Check out our action plan below, along with some of other pages around what being Affirming means, past events, and resources like the ABCs of LGBTQ2SIA)
The main resource guiding our process is the Open Hearts document developed by Affirm United.  Read Affirm United's annual report here.
Why being Affirming makes a difference
Hillhurst United, Calgary AB: Affirming Church, Affirming Ministry: https://vimeo.com/138491906
Riverside United Church, London ON: Being an Affirming church: https://youtu.be/lcx6cImMlhY
What is Affirming?  (Find out about what being Affirming means)
Why Affirming? (Discover the differences between welcoming and affirming)
Past Events (Read about our past  Affirming events/activities)
Resources (A growing list of resources for learning) 
If you have any questions, ideas for events, connections, or would like to participate in the Affirm working group, please contact Toni Pieroni (tonip@telus.net) or Emily Simpson (emilyasimpson@gmail.com)
CMUC AFFIRM ACTION PLAN FOR 2018-19
1.Implement publicly visible signs that let everyone know we are affirming.
2.Update our bulletin, website and social media to reflect Affirm status.
3.Hold official celebration of Affirm designation.
4.Participate in an LGBTQ2SIA community event like Pride, Dyke March, Transgender March, Transgender Day of Remembrance
5.Expand inclusive language used in worship service including prayers (community concerns) and hymns.
6.Create visuals, stories and rituals for kids/youth to affirm the expression of their whole selves and different family configurations. Integrate this work year round, thoughtfully working with Bible stories and families. Collect resources.
7.Create poetry, prose, lyric writing, and art with Affirm focus.
8.Host conversational forum/event that creates more compassion/understanding and breaks down stereotypes (films, books, panels, other media).
9.Host educational workshops/events around any of the following topics: intersectionality of systemically oppressed groups (priority); active witnessing; allyship; how to talk to people with different views; identifying invisible privilege; addressing heterosexism, homophobia, transphobia;, and sex shaming.
10.Identify ways to support Rainbow Refugee's work.
Upcoming Events:

June 2018
Invitation to participate: The LGBTQ Aging Study
A team at the University of British Columbia is investigating what it is like to grow older as an LGBTQ person. If you are aged 65+ and self-identify as lesbian, gay, bisexual, transgender, and/or queer (LGBTQ), please consider this opportunity.
 
"We want to find out how you experience changes to your appearance, health, and social interactions. We also want to know if and how you experience discrimination because of your age, sexual orientation, and gender identity. Participation involves two interviews, each approximately one to 1.5 hours in length."
 
Interested? Get in touch with Dr. Laura Hurd Clarke and her research team; she is a professor at the School of Kinesiology at UBC. Please email laura.hurd.clarke@ubc.ca or call (604) 822-4281

June – August 18:  QueerSUM – Art Exhibition by Karin Lee
268 Keefer St, Suite 425   Open Tuesday-Saturday 12-6pm
Queer-sum a "Chinglish" translation and play on the words Queer Love, alludes to queer attraction that people experience, even though they believe themselves to be straight identified – or queer-sum (sum=heart=love).  QueerSUM心 presents three of Karin Lee's media works: a 2-channel remix of her classic 16mm film My Sweet Peony, a fantastical drama shot in the Dr. Sun Yat-Sen Classical Chinese Gardens; Portrait of a Girl, a documentary shot in Beijing; and Small Pleasures, a period drama set in Barkerville BC.  The works not only investigate sentiments of being "Queer-sum," but pay tribute to Vancouver's Chinatown—where Lee spent her childhood—and examine the underlying racism which contributed to the very creation of "Chinatowns" amidst the colonization of Indigenous peoples.
Read more about the works presented and the artist at
http://queerartsfestival.com/queersum-show-karin-lee/
June 10:
 AFFIRM VOTE CMUC, after service
At the annual congregational meeting, motions on seeking the Affirm designation, amended language for our mission statement and a proposed action plan to continue our commitment to LGBTQ2SIA inclusion will be presented.
June 16-28: Queer Arts Festival, Roundhouse Community Centre
Program guide
2018 marks 10 years of the Queer Arts Festival. 2018's curated visual art exhibition DECADEnce remembers the Other marks and interrogates what we collectively choose to celebrate. By engaging queer artists across disciplines DECADEnce explores marks that live beyond the page, numerical devices, and quantitative data; the mark that lives in actions unnoticed, voices unheard, lost stories of self, and races won in forgotten Herstories/Ourstories.
DECADEnce marks a time for us to revisit, and therefore represent and archive, the stories of us by celebrating and honouring our community of trailblazing queer ancestors, the stories untold, the unmeasurable progress, visceral pleasures, tragic loses, the almosts, the push back, the unnamed, the unmarked, the dead, the blood-sweat-and tears. These marks continue to live in and inform our actions, our reality to fuel a discourse that challenges perceptions of success by sharing the stories of how we got here and what sacrifices and struggles it required.
June 24: EASTSIDE PRIDE, 12pm, Grandview Park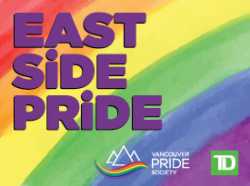 This will be an inclusive, engaging and family-friendly event featuring loads of local talent and friends from the community. We recognize this event will be on the unceded territories of the x?m??kw?y??m (Musqueam), S?wx?wú7mesh (Squamish),and S?l?ílw?ta?/Selilwitulh (Tsleil-Waututh) peoples and are thankful to our hosts in their stewardship of the land for time immemorial.
Join us at the stage for a variety of live acts including Dia Nos, RedSoulBluez, Michelle Joly, Carousel Scene, Scizzor Fairy, drag performances and more. This event space is accessible by foot, bike, mobility devices and, transit, with multiple gender accessible washrooms onsite. ASL interpretation provided. East Side Pride is a sober event.
JULY 2018
July 27 – 29,  SpiritPride 2018 – Celebrating Our Gifts
@ St Andrew's-Wesley United Church, Vancouver BC
SpiritPride is a spirituality conference for members of the LGBT Community and their allies to celebrate LGBT Spirituality and to explore their identity & spiritual growth. This year's theme is Celebrating our Gifts, an opportunity to move beyond seeking acceptance and affirmation, to actively embracing and enacting the spiritual and social gifts we bring to our spiritual and social communities. SpiritPride  welcomes the LGBTQ2S community, as well as LGBTQ allies, friends and family, and members of churches and spiritual groups seeking to be affirming and inclusive. Find out more details about the amazing keynote speaker, Jennifer Knapp, and other speakers/events here:
http://spiritpride.org